Browse By Brands:
FPV/ Aerial Photography
BaseCam SimpleBGC 32-bit Gimbal Controller SBGCV3.0-32bit (CNC case) | official version
Features:
BaseCam SimpleBGC 32-bit
The controller can be used for building high-quality 3-axis camera stabilizing systems which can be mounted to UAV and for building handheld camera stabilizers.

This version of the controller is our new direction in the development of the stabilizing solutions. It will replace the previous 8-bit version of the SimpleBGC controller, keeping 100% back-compatibility, but adding the new fuctionality.
Basic functions of the controller
32-bit MCU — ARM Cortex M4. Effectively calculates the complex tasks for 3-axes stabilization.
Allows camera control with the RC or analog joystick.
Use several switchable profiles for different modes of operation
Supports variety of RC protocols: PWM, Sum-PPM, spektrum and s-bus.
Battery voltage monitoring, compensating voltage drop in the PID-regulator.
Low battery alarm (output to 5V active buzzer).
Increased number of inputs for controlling signals + 3 additional reserved input/output AUX1-AUX3.
Can supply up to 1A current for external devices on the 5V power line.

Dedicated UART-socket to connect optional Bluetooth module
Reverse-polarity protection, overheat and overcurrent protection

USB interface for the PC connection, to configure, control and upgrade firmware.
Graphical user interface to manage the settings. Windows / OS X / Linux versions.
Control through the Serial-protocol using dedicated API.
Improved attitude estimation algorythms

Optional second IMU, that will increase the short-term precision of the stabilization 10x-30x times and will make stable work in any frame position.


Dimensions, mm




Welcome to access the Official website to know more:
http://www.basecamelectronics.com/simplebgc32bit/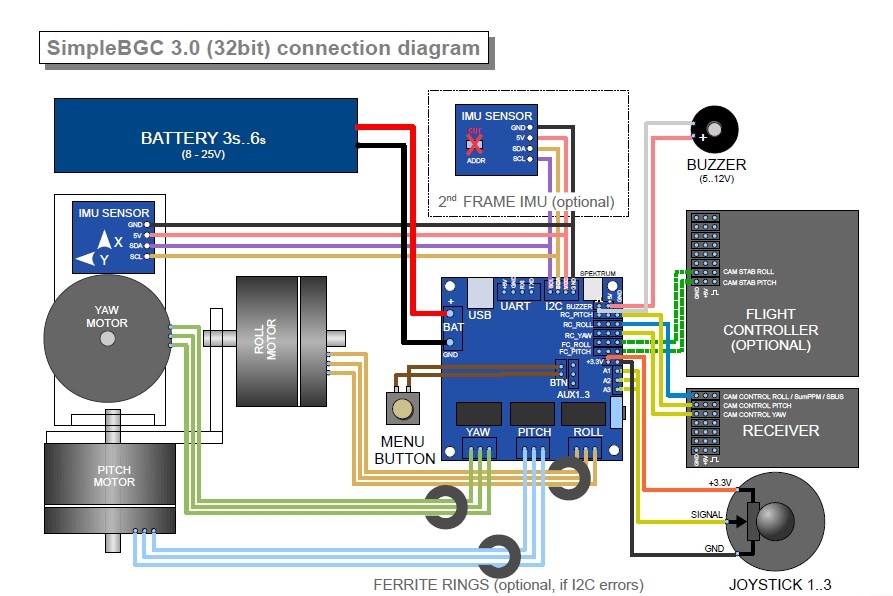 Specifications:
Alexmos BaseCam Simple BGC3.0 SBGC V3.0 32-bit 3-axis Brushless Gimbal Controller | V3.0
| | |
| --- | --- |
| Size of the board: | 50×50 mm |
| Distance between the mounting holes: | 45 mm |
| Diameter of the mounting holes: | 3 mm |
| Power supply voltage: | 8–25 V (3s-5s LiPo) |
| Maximum motor current: | 1,5 A |
| 5V output current to power external devices: | up to 1 A |
Offical website: http://www.basecamelectronics.com/simplebgc32bit/


Note about brushless gimbals & Controllers:

Brushless gimbals and controllers are very new to the market and it is an emerging technology. You will need some patience and effort to get it to work as seen on youtube etc.. THIS IS NOT A PLUG AND PLAY DEVICE!
You will need some understanding of Microsoft windows drivers, software settings and tuning the gimbal software to your liking and to suit your multirotor.
Getting things to work the way it's supposed to will be YOUR RESPONSIBILITY. Please understand this before you purchase any Brushless Gimbal Related Item.
Includes/Requires:
Includes:

1 x Gimbal Controller main board 32-bit (with CNC case)
1 x sensors + wire distribution module (plastic case)
1 x sensor (CNC case)
2 x sensor wires
1 x power supply cable


Comments:


Customer Reviews:
Please explain:
Messages of this section are not monitored by HiModel, it is for review and discussion among customers only.
Upload Image:
(Up To 5 Files, only .jpg/.gif/.png files are accepted and sizes below 2MB for each)
Post as: Review Question
Select grade: star(s)
Anonymous: Yes No
©2003-2019 HiModel All Rights Reserved.