Browse By Brands:
FPV/ Aerial Photography
1080P HD FPV DVR Camera W/ Waterproof case, 8G SD card SJ6000 - Black (Support WIFI & AV Out)
Features:
Features:

- A water-resistant casing that allows you film fascinating water sports; water resistant up to 30 meters under water.
- High definition screen that displays and replays fascinating videos recorded
- Detachable battery that is easy to replace and prolongs your camera's service life
- Video recording while charging
- Video recording with battery
- 12-megapixel HD wide-angle lens
- HDMI HD output
- Web camera
- Support storage cards up to 32GB maximum
- Multiple video recording formats: 1080P 720P WVGA
- Recorded in AVI format
- Multiple photo shooting modes: Single shot, Snapper
- Video encryption enabled
- Mini appearance
- Color: black
- Open WiFi button within the menu, it will be more convenient to operate the machine by using a mobile phone.


This is the version with A/V output, procedures to turn on the A/V output as following:

Turn on the Power -- > push down and hold the upper button on side for 2-3 seconds --- > the screen will turn off, then the A/V out signal is turned on.
To turn the A/V output off, press and hold the button for 2-3 seconds again, it will turn back to normal mode.
Specifications:
1080P HD FPV DVR Camera W/ Waterproof case, 8G SD card SJ6000 - Black (Support WIFI & AV Out)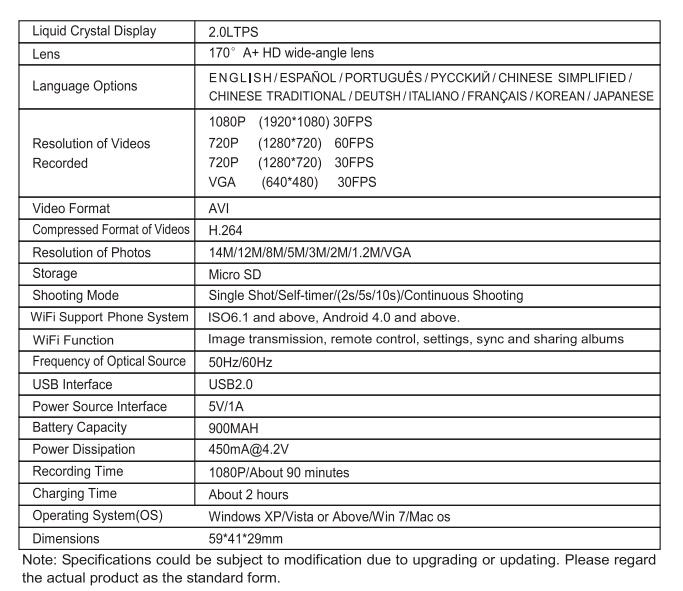 Includes/Requires:
Includes:
1 x DVR camera
1 x waterproof case
1 x AV wire
1 x accessory bag

* Due to security control, battery is not eligible for air shipments, so battery will only be provided to orders ship to addresses in China.



Customer Reviews:
Please explain:
Messages of this section are not monitored by HiModel, it is for review and discussion among customers only.
Upload Image:
(Up To 5 Files, only .jpg/.gif/.png files are accepted and sizes below 2MB for each)
Post as: Review Question
Select grade: star(s)
Anonymous: Yes No
©2003-2018 HiModel All Rights Reserved.