Browse By Brands:
Lithium Polymer (Li-poly) & Ni-Mh battery packs, battery chargers, Electric (Brushless) Motors, Electric Speed Controllers ( ESC ), Gyros, Electric Accessories etc.
Electric
Brushless Speed Control (BL ESC) - Cars
Ezrun-35A Brushless ESC + 10T (3930KV) Motor + Pro-card Combo for 1/10 Car
Features:
This is the saving combo.
ESC Features:
● Compatible with all sonsorless brushless motor.
● Use top quality electronic components to enhance the current endurance ability of the ESC.
● Excellent start-up, acceleration and linearity features.
● With 2 running modes (Racing mode and Forward/Backward mode).
● With 4 steps of maximum reverse force adjustment.
● Proportional ABS brake function with 4 steps of maximum brake force adjustment, 8 steps of drag-brake force adjustment and 4 steps of initial brake force adjustment.
● With 4 start modes (Also called "Punch" ) from "Soft" to "Very aggressive".
● Multiple protection features: Low voltage cut-off protection for lithium or nickel battery / Over-heat protection / Throttle signal loss protection / Motor blocked protection.
● With 8 steps of timing adjustment to get the best compatibility with various of motors.
● Easily program with only one button and compatible with pocket-sized program card.

Feature of motor:
● Top quality materials:
● Aluminium shell (case)
● High quality magnets
● Copper wires of high temperature endurance
● Good quality bearings
● Dustproof design.
● Low price but good quality, easy to use.
Specifications:
ESC Specification:
● Output: Continuous current 25A, burst current 90A.
● Input: 4-9 cells NiMh/NiCd or 2-3 cells LiPo. *Note1
● BEC Output: 6V/1.5A.
● Resistance: 0.0015 Ohm.
● Motor Supported: Sensorless Brushless Motor
● Suitable Brushless Motor: 9T and > 9T
● Suitable Car: 1/10, 1/12 on-road or off-road cars / trucks for normal race or sportful race.
● Size: 31.5mm(L) * 27.5mm(W) * 24mm(H).
● Weight: 30g(Without wires)
*Note1:
For 4-6 Cell Ni-xx: You needn't change the fan coming with the ESC;
For 7-9 Cell Ni-xx: You must change the fan because it cannot work with such a high voltage, so please choose a high voltage fan or supply the fan from the receiver (+6V);
Programmable Items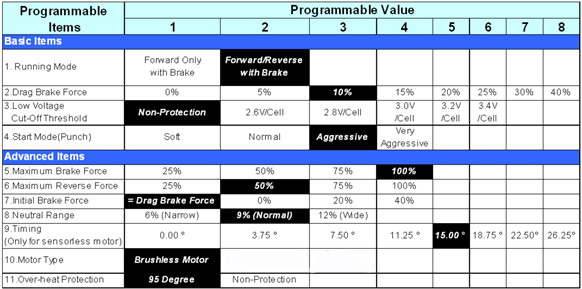 Motor Specs:
Motor shaft: 3.17mm
Diameter: 35.8mm
Length: 50mm (excluding motor shaft)
Shaft length: 15mm
Weight: 167g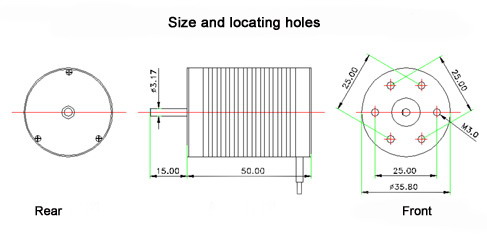 Includes/Requires:
Includes:
1 x ESC
1 x ESC colling fan (pre-installed)
1 x 10T 3930KV brushless motor
1 x program card for ESC
1 x Instruction manual (English)
* The speed controller and program card in the combo are V2 since 29/06/2009.


Customer Reviews:
Please explain:
Messages of this section are not monitored by HiModel, it is for review and discussion among customers only.
Upload Image:
(Up To 5 Files, only .jpg/.gif/.png files are accepted and sizes below 2MB for each)
Post as: Review Question
Select grade: star(s)
Anonymous: Yes No
©2003-2018 HiModel All Rights Reserved.