Browse By Brands:
Multi-rotor aircrafts and accessories
Multi-rotors
Brush Motor Driving Board/ Adaptor for NAZE32 SPRACING F3 Flight Control CF_BDB
Features:

Typical application: using your burshless flight controller to drive brush motors (convert your brushless power system to brushed system).

Specially designed for flight controllers based on Cleanflight programme like Naze32 SPRacing F3, Skyline 32 and the derivative flight controllers, support up to 6-axis, max output of each axis up to 10A.


Hint:
Once hook up your brushless flight control and CF_BDB, key in "set motor_pwm_rate=1000" in the CLI command line of your CF programme, and key in "Save" to save your setting, otherwise your brush motors will start to run once your system is power on.

Specifications:
Brush Motor Driving board/ Adaptor for NAZE32 SPRACING F3 Flight Control


Specification:
Size: 25mm x 21mm
Weight: 1g
Max current of each motor: 10amps
Support 3-rotors, Quadcopter, Hexacopter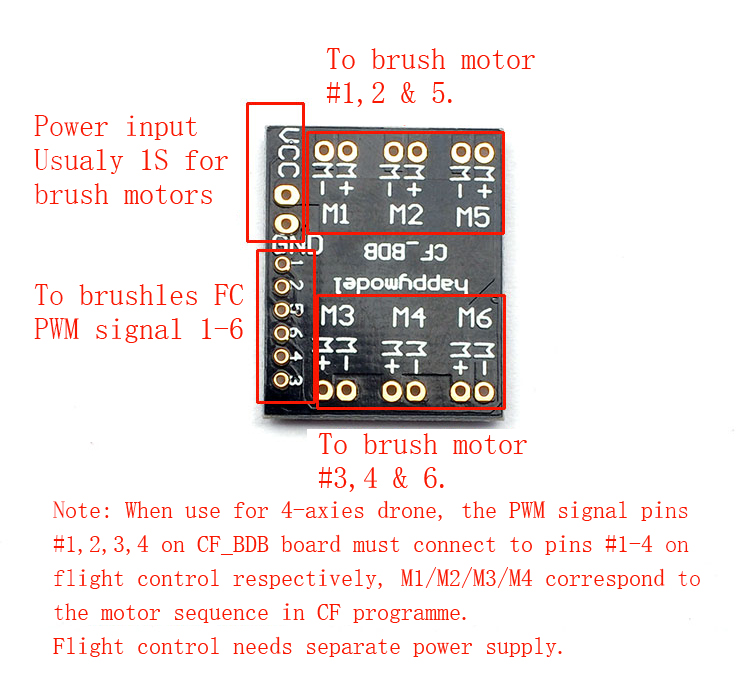 Includes/Requires:
Includes:
1 x brush motor drive board


* This is a motor drive board only, flight control is NOT included.
Customer Reviews:
Please explain:
Messages of this section are not monitored by HiModel, it is for review and discussion among customers only.
Upload Image:
(Up To 5 Files, only .jpg/.gif/.png files are accepted and sizes below 2MB for each)
Post as: Review Question
Select grade: star(s)
Anonymous: Yes No
©2003-2018 HiModel All Rights Reserved.