Browse By Brands:
Lithium Polymer (Li-poly) & Ni-Mh battery packs, battery chargers, Electric (Brushless) Motors, Electric Speed Controllers ( ESC ), Gyros, Electric Accessories etc.
Electric
Brushless Speed Control (BL ESC) - Cars
Ezrun-SC10 70A Brushless ESC for Short Course Truck
Features:
1 Integrated and compact design, very suitable for short course trucks and buggies.
2 The built-in switching mode BEC of EZRUN-SC8 ESC has a powerful output to supply all electronic equipments even with 4S Lipo input.
3 Excellent start-up, acceleration and linearity features.
4 With 3 running modes: Racing mode (Forward), Forward/Backward mode and Rock Crawler mode.
5 With 4 steps of maximum reverse force adjustment.
6 Proportional ABS brake function with 5 steps of maximum brake force adjustment, 8 steps of drag-brake force adjustment and 4 steps of initial brake force adjustment.
7 Compatible with mechanical disc-brake system.
8 With 9 start modes (Also called "Punch" ) from "Soft" to "Very aggressive" to suitable for different tracks.
9 Multiple protection features: Low voltage cut-off protection for lithium or nickel battery / Over-heat protection / Throttle signal loss protection / Motor blocked protection.
10 With 8 steps of timing adjustment to get the best compatibility with various of motors.
11 Easily program with only one button and compatible with
pocket-sized LED Program Card
and the
Advanced LCD Program Box
.
12 ESC firmware updatable via an USB adapter on the Advanced LCD Program Box.
13 The major electronic components are sealed against splashing water and dust.
14 2 mounting holes on the bottom are helpful for firmly installing the ESC on the chassis.  
4 Programmable Items (Click the following picture to enlarge it)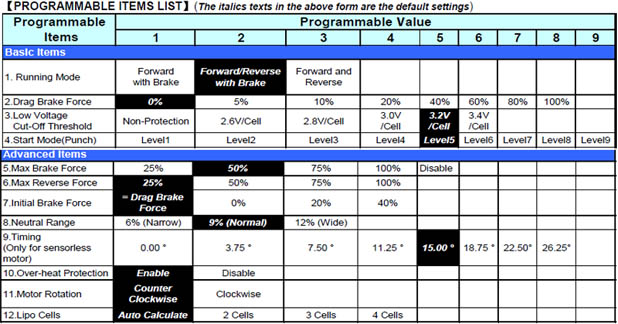 Specifications:
1.1 Output:
EZRUN-SC10 ESC: Continuous current 70A, burst current 520A;

1.2 Input:
EZRUN-SC10 ESC: 6-9 cells NiMH/NiCd or 2-3S Lipo;

1.3 BEC Output: Note1
EZRUN-SC10 ESC: 6V/3A (Linear mode);

1.4 Resistance:
EZRUN-SC10 ESC: 0.0007 Ohm;

1.5 Motor Supported: Sensorless Brushless Motor
1.6 Suitable Brushless Motor:
EZRUN-SC10 ESC:
With 6 cells NiMH/NiCd or 2S Lipo: KV≤6000;
With 7-9 cells NiMH/NiCd or 3S Lipo: KV≤4000;

1.7 Suitable Car:
EZRUN-SC10 ESC: 1/10th scale 2WD short course truck / buggy / monster;

1.8 Size: 53.5mm(L) * 36mm(W) * 36mm(H).
1.9 Weight:
EZRUN-SC10 ESC: 88g;

Note1: The cooling fan of EZRUN-SC10 and EZRUN-SC8 is powered by the built-in BEC of 6V.

Includes/Requires:
Includes:
1 x ESC EZRUN-SC10




Customer Reviews:
Please explain:
Messages of this section are not monitored by HiModel, it is for review and discussion among customers only.
Upload Image:
(Up To 5 Files, only .jpg/.gif/.png files are accepted and sizes below 2MB for each)
Post as: Review Question
Select grade: star(s)
Anonymous: Yes No
©2003-2018 HiModel All Rights Reserved.