Browse By Brands:
Lithium Polymer (Li-poly) & Ni-Mh battery packs, battery chargers, Electric (Brushless) Motors, Electric Speed Controllers ( ESC ), Gyros, Electric Accessories etc.
Electric
Smart 2-in-1 5A Regulator W/ Glow plug ignition RCD3012
Features:
RCD3012 is a linear voltage regulator BEC system with built-in high efficient smart glow plug driver. The system provides stable power to receivers and servos, and it can programmable output voltage either 5.9V or 7.2V by user needs. It uses the smart method to replace the traditional glow engine igniter.
The linear voltage regulator can output 5Amps current constantly, pulsed overload current can reach 20Amps. compared to switch mode regulator, the linear regulator has no ripple and no EMI interference to other devices such as receiver or GPS, it is especially suitable for big size models, Scale RC planes, 3D helicopters and UAV.
The built-in glow plug driver not only can be triggered by manual but also can be triggered through transmitter remotely, the output cables connecting to receiver can be power supply and accept the control signals at same time.
Specifications:
Smart 2-in-1 5A Regulator W/ Glow plug ignition RCD3012
■ Glow Driver & Linear BEC 2 IN 1

■ Programmable BEC output voltage 5.9 V or 7.2 V
■ Linear mode Regulator,PulsedCurrentoutput 20Amps, Continuous Current output 5Amps
■ Glow plug ignition can be manual control or remote control operated
■ Checking glow plug damaged or not automatically
■ Time out protection, short circuit, low voltage and overheatprotection
■ Failsafe trigger switch
■ Low voltage alarm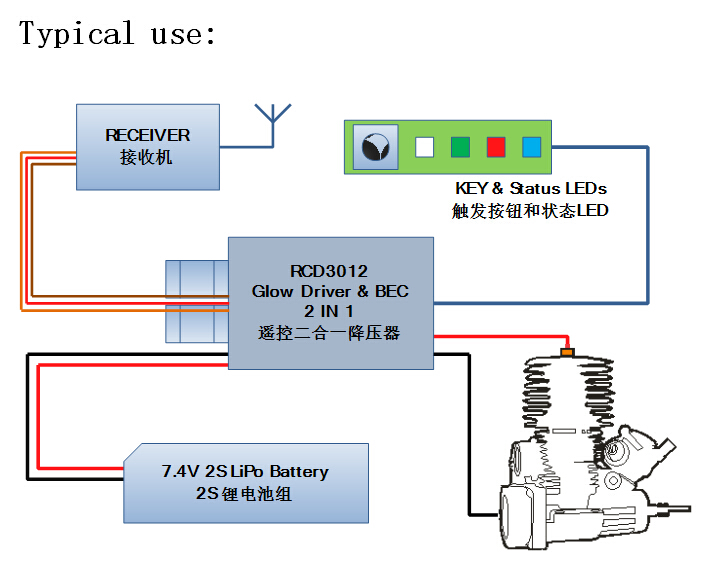 Includes/Requires:
Includes:
1 x Regulator W/ glow engine ignition
Customer Reviews:
Please explain:
Messages of this section are not monitored by HiModel, it is for review and discussion among customers only.
Upload Image:
(Up To 5 Files, only .jpg/.gif/.png files are accepted and sizes below 2MB for each)
Post as: Review Question
Select grade: star(s)
Anonymous: Yes No
©2003-2018 HiModel All Rights Reserved.