Browse By Brands:
Car & Truck Engines, Airplane & Helicopter Engines ( 2 Stroke and 4 Stroke) , Marine Engines and Glue Plugs, Engine Accessories etc.
Engines
Gas/Petrol Powered Engines & Accessories
NGH GT25-B Petrol Engine for Radio Control Aeroplane
Features:
THIS IS THE UPGRADED VERSION OVER PREVIOUS GT25, BALL BEARING IS ADOPTED TO THE CRANKSHAFT CONNECTION ROD.

This is a new generation of small gas quality engine, it combines the advantages of both Nitro and gasoline engines, compact in size, light weight, fuel economy, reliable and powerful.
Specifications:
Specifications
Engine Type Gasoline Two-stroke, Air Cooled, Rotary Valve
Cylinder Type Precision Steel Sleeve
Cylinders Single
Crank Type-Forged Dual Ball Bearing Support
Mounting Type Beam or Rail Mount
Carburetor Type Walbro WT Series
Carburetor Mounting Front
Crankshaft Threads 5/16" X 24 TPI
Mounting Dimensions Owners Manual or Website
Plug Type 1/4 X 32
Displacement 1.5 cu in.(25.1cc)
Bore 1.307 in. (33.2mm)
Stroke 1.142 in (29mm)
Engine (Only) Weight 830g
Ignition Weight 120g
Prop Range 16*8,16*10,17*8,17*10
RPM Range 1800-9000
Fuel Unleaded Gasoline With High-Quality 100% Synthese Oil, Pre- Mixed
compression ratio 10.5
Pre-Mix Oil Ratio and Type Break-in with 20:1, General 25:1, For Air Cooled Engines (Oil percentage can not less than 4%)
Performance
Prop RPM
JXF 15*8 9400
JXF 16*8 8400
JXF 17*8 7800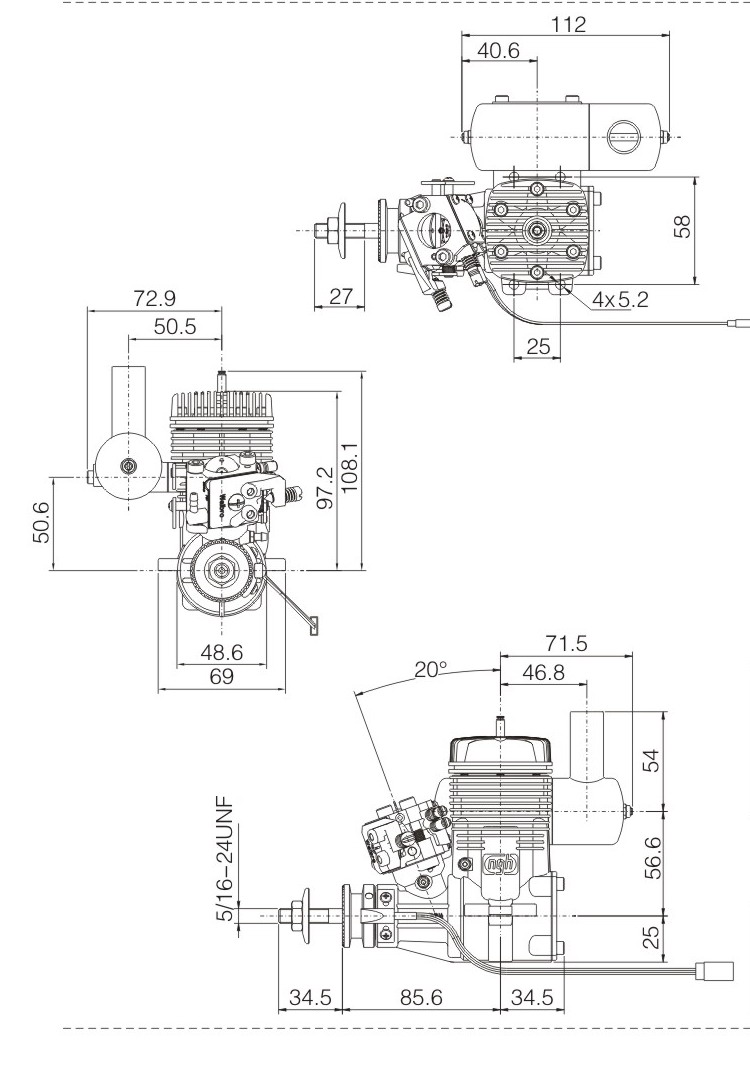 Includes/Requires:
Customer Reviews:
Please explain:
Messages of this section are not monitored by HiModel, it is for review and discussion among customers only.
Upload Image:
(Up To 5 Files, only .jpg/.gif/.png files are accepted and sizes below 2MB for each)
Post as: Review Question
Select grade: star(s)
Anonymous: Yes No
©2003-2018 HiModel All Rights Reserved.