Browse By Brands:
DJI full line products including drones, imaging products & enterprise products.
DJI
DJI Mavic Pro Platinum Quadcopter Drone - Standard (3-axis gimbal, 4K camera)
Features:
MAVICPROPLATINUM
The Mavic Pro Platinum features a sleek design and compact body that is both powerful and alluring. A new and improved 30-minute flight time coupled with 60% noise power reduction makes the Mavic Pro Platinum DJI's best portable drone yet.

Enhanced Endurance,Quieter Flight


Aircraft noise has been reduced by up to 4dB* (60% noise power) and
extended flight time to 30 minutes with new FOC sinusoidal driver ESCs
and 8331 propellers for a quieter, more enjoyable flight experience.

With a brand-new aerodynamic design, the 8331 propellers give the Mavic Pro Platinum an impressive noise control performance,
and the new FOC ESC drivers offer sinusoidal current for increased stability.





Specifications:
DJI Mavic Pro Quadcopter Drone - Standard

AIRCRAFT
Folded
H83mm x W83mm x L198mm
Diagonal Size (Propellers Excluded)
335 mm
Weight (Battery & Propellers Included)
1.62 lbs (734 g) (exclude gimbal cover)
1.64 lbs (743 g) (include gimbal cover)
Max Ascent Speed
16.4 ft/s (5 m/s) in Sport mode
Max Descent Speed
9.8 ft/s (3 m/s)
Max Speed
40 mph (65 kph) in Sport mode without wind
Max Service Ceiling Above Sea Level
16404 feet (5000 m)
Max Flight Time
30 minutes (no wind at a consistent 15.5 mph (25 kph))
Max Hovering Time
27 minutes (no wind)
ESC(Electronic Speed Controller)
FOC
Max Total Travel Distance (One Full Battery, No Wind)
9.3 mi (15 km, no wind)
Operating Temperature Range
32° to 104° F (0° to 40° C)
Satellite Positioning Systems
GPS / GLONASS
Hover Accuracy Range
Vertical:
+/- 0.1 m (when Vision Positioning is active) or +/-0.5 m
Horizontal:
+/- 0.3 m (when Vision Positioning is active) or +/-1.5 m
Operating Frequency
FCC:
2.4-2.4835GHz; 5.150-5.250 GHz; 5.725-5.850 GHz
CE:
2.4-2.4835GHz; 5.725-5.850 GHz
SRRC:
2.4-2.4835 GHz;5.725-5.850 GHz
Transmitter Power (EIRP)
2.4GHz
FCC:<=26 dBm; CE: <=20 dBm; SRRC:<=20 dBm; MIC:<=18 dBm
5.2 GHz
FCC:<=23 dBm
5.8 GHz
FCC:<=23 dBm; CE <=13 dBm; SRRC: <=23 dBm; MIC: -
REMOTE CONTROLLER
Operating Frequency
2.4 GHz to 2.483 GHz
Max Transmission Distance
FCC Compliant: 4.3 mi (7 km);
CE Compliant: 2.5 mi (4 km)
SRRC Compliant: 2.5mi (4 km)
MIC Compliant: 2.5 mi (4 km) (Unobstructed, free of interference)
Operating Temperature Range
32° to 104° F ( 0° to 40° C )
Battery
2970mAh
Transmitter Power (EIRP)
FCC:<=26 dBm
CE:<=20 dBm
SRRC: <=20 dBm
MIC: <=18 dBm
Operating Current/Voltage
950mA @ 3.7V
Supported Mobile Device Size
Thickness Supported:6.5-8.5mm
Max length: 160mm
Supported USB port types: Lightning, Micro USB(Type-B),USB(Type-C)™
GIMBAL
Controllable Range
Pitch: -90° to +30°
Roll: 0° or 90° (Horizontally and vertically)
Stabilization
3-axis (pitch, roll, yaw)
VISION SYSTEM
Vision System
Forward Vision System
Downward Vision System
Obstacle Sensory Range
Precision measurement range: 2 ft (0.7 m) to 49 ft (15 m) Detectable range: 49 ft (15 m) to 98 ft (30 m)
Operating Environment
Surface with clear pattern and adequate lighting (lux > 15)
Velocity Range
≤22.4 mph (36 kph) at 6.6 ft (2 m) above ground
Altitude Range
1 - 43 feet (0.3 - 13 m)
Operating Range
1 - 43 feet (0.3 - 13 m)
APP / LIVE VIEW
Mobile App
DJI GO 4
Live View Quality
720p@30fps, 1080p@30fps(Remote Controller)
720p@30fps(Wi-Fi)
720p@60fps, 1080p@30fps(DJI Goggles)
Latency
160-170ms (depending on conditions and mobile device)
Required Operating Systems

iOS 9.0 or later
Android 4.1.2 or later
Includes/Requires:
Included in the Package (Standard)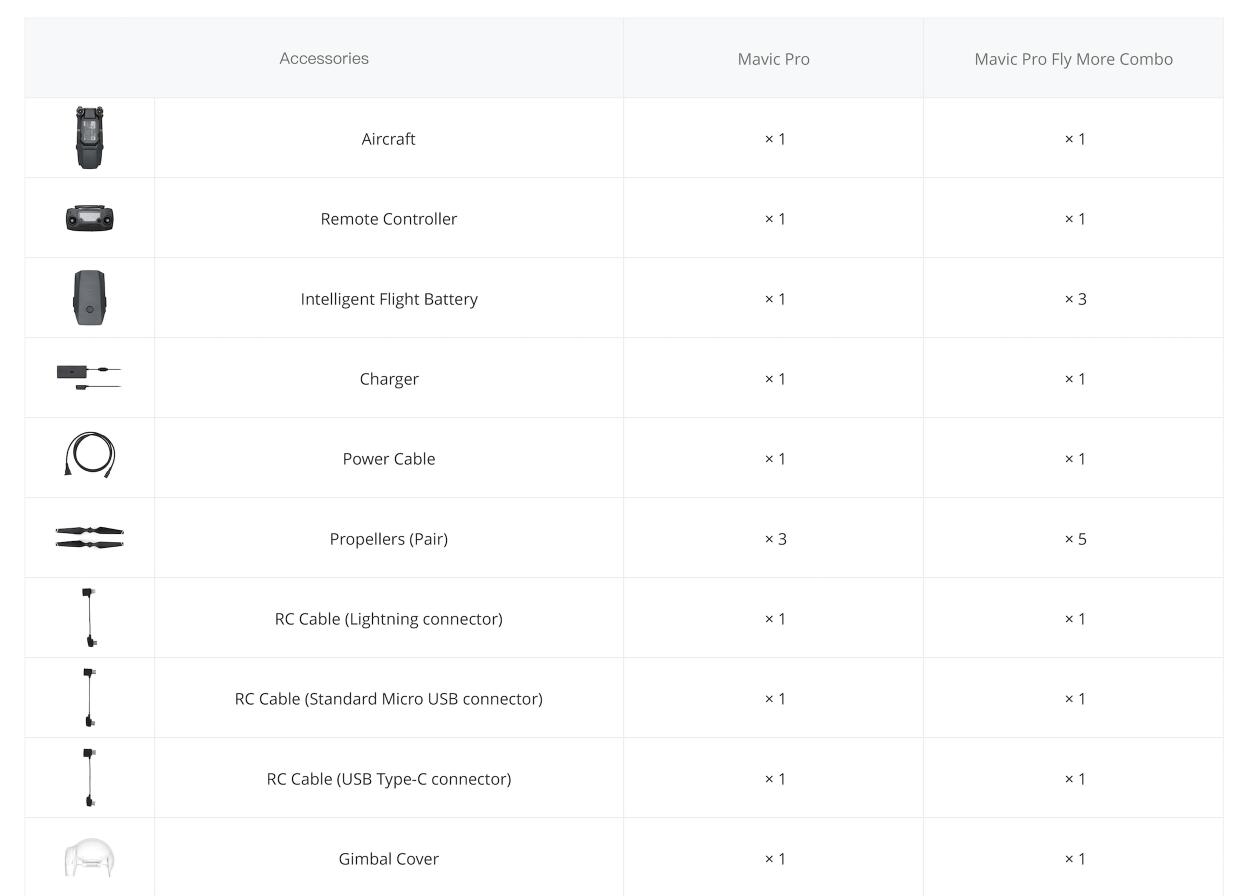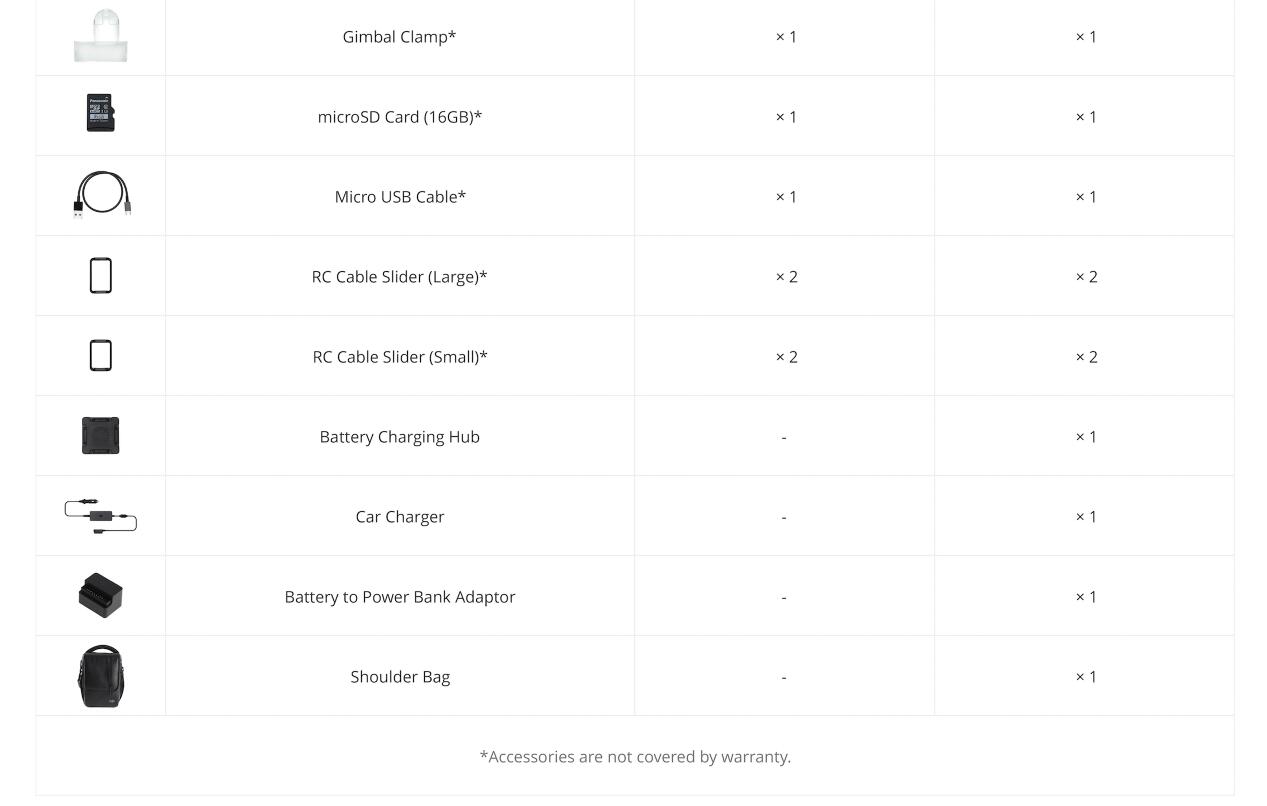 Customer Reviews:
Please explain:
Messages of this section are not monitored by HiModel, it is for review and discussion among customers only.
Upload Image:
(Up To 5 Files, only .jpg/.gif/.png files are accepted and sizes below 2MB for each)
Post as: Review Question
Select grade: star(s)
Anonymous: Yes No
©2003-2018 HiModel All Rights Reserved.